User name: Zerd
Character: Yokai Ishida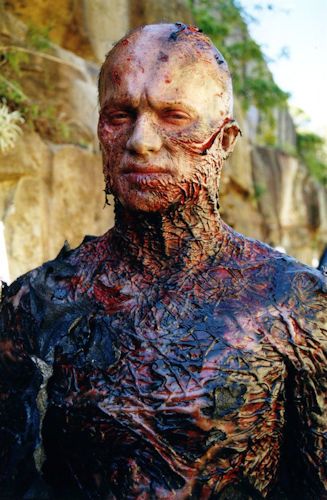 A.K.A.: The Black Dragon of Tokyo. Lord-Breaker. The Beast of Bangkok. Bane of Blades. Hand of the Void.. The Onyx Wyrm. (He's been around)
Splat: Vampire, Ordo Dracul :vtr:
Concept: Ordo Solider Scholar
Approximate age: 214 (looks to be mid to late 30's hard to tell with all the burn damage and scars)
Yokai came to Portland as a lone survivor. His platoon of Axe sworn was directed to several places across the US. Their duty was to evacuate, exterminate and secure what could be by order from Kindred much higher on the totem pole than himself.
During the War of the Four Yokai gave way to his monster, nearly losing himself, for the greater good of the Covenant he told himself and let loose the bonds of self that gave way to the beast.
His mastery of the Blade was only surpassed by his wanton love of torture. He took it to a whole new level and made it an art form. Kindred, Wolf, Magi. Man woman, or childe none mattered to him save the end result. Extraction of information needed by the Ordo to ensure their survival.
Since the end of the war Yokai has had time to retreat back into his studies of psychic phenomena, and for the most part put himself back together on a more humane level. Though the he is sure the Nightmares will never truly go away.
Tie In:
Were you a fellow member of the Axe platoon that he didn't know survived? Or a member of a chapter house that he helped evacuate.
A victim of his art during the war, holding secretes or information that he was ordered or paid by another faction to extract. Perhaps even a student whom was learning the art of torture from him.
A member of the opposing faction that killed his Sire all those years ago in Tokyo.
A case study on psychic ability.
A thread of humanity that helped pull him back from the abyss of the Beast.
Someone he has recruited into The Heralds of the Void
Please feel free to send me a PM if your interested in any of these ties.